Are you ready for softer,
longer hair?
Get UNLIMITED access to The Dry Hair Antidote: Dry Hair to Moisturized Curls hair regimen guide. Our unique six-week maximum hydration regimen is designed to give you weekly, step-by-step instructions for using our ready-made products, while also providing you with EXCLUSIVE tutorials and DIY hair growth treatment recipes at your fingertips.
SAY GOODBYE TO DRY HAIR
AND HELLO TO MOISTURIZED CURLS!


This Maximum Moisture Bundle contains
TEN
Ayurvedic haircare products and ingredients that
will help you to achieve
MAXIMUM
moisture and hydration, improve curl definition, reduce shedding and breakage, and promote hair growth. Perfect for all hair types, this collection will transform the driest and most tangled and parched textures, into the softest and most unbelievably moisturized and hydrated hair of your dreams!
This bundle is especially recommended for low porosity hair and Type 3-Type 4 hair types. It is safe to be used on chemically colored or relaxed hair.


This collection includes:


Sweet Honey Hair Nourisher 8 oz
Cleansing CoWash 8 oz
Moroccan Hair Detox Mud Mask 10 oz
Ayurvedic Hair Oil 4 oz
Organic Amla Powder 100 grams
Organic Fenugreek Powder 100 grams
Organic Camellia Oil 4 oz
Organic Amla Oil 4 oz
Organic Cocoa Butter 8 oz
Ayurvedic Hair Tea 100 grams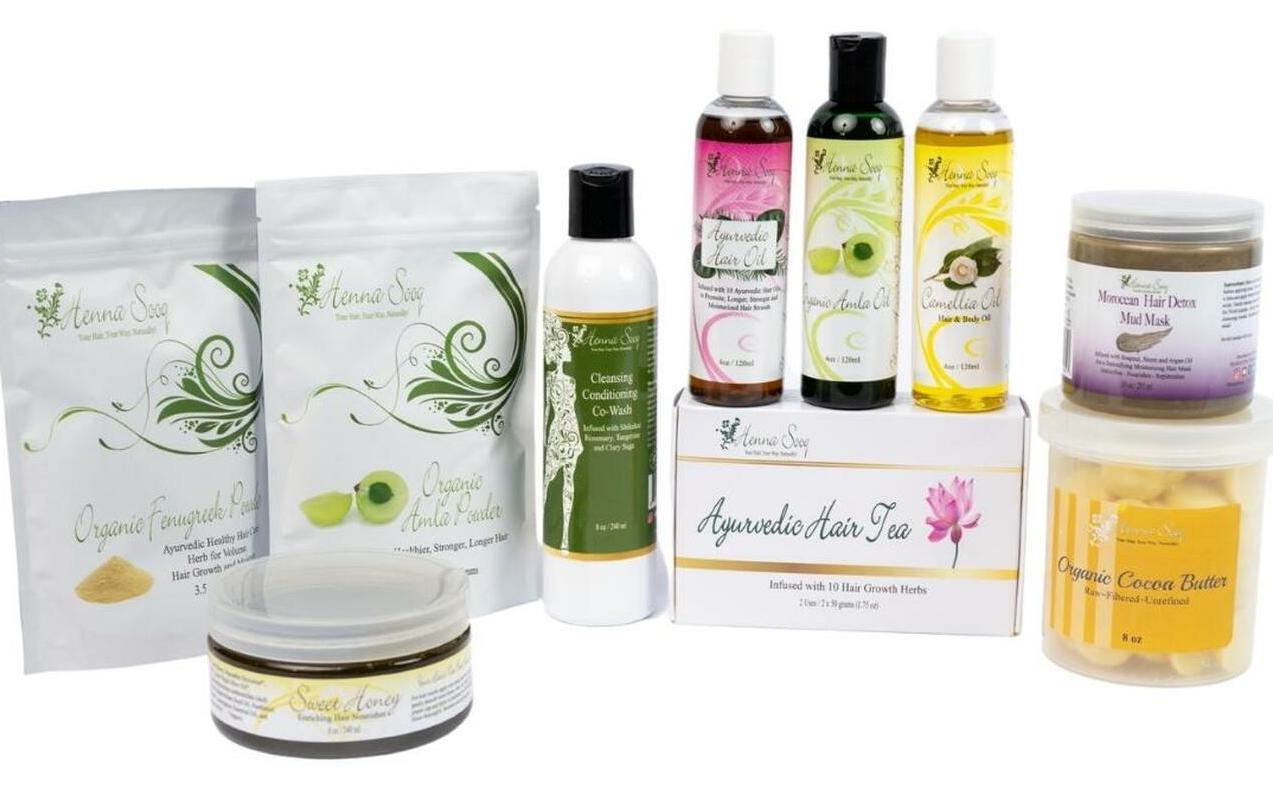 The Dry Hair Antidote: Dry Hair to Moisturized Curls
In this guide, our favorite curlfriend and 4c natural hair aficionado, Janice aka FromATo4Z, will teach you how to build a solid moisture routine and regimen. 
Never Enough Conditioner 
Oil is KING at Henna Sooq so Janice will show you how to use Ayurvedic hair oils to prepoo or pre-condition your hair. Not only that, but our curlfriend will give you an insider look at the wonders of our Sweet Honey Hair Nourisher as a deep conditioner on Type 4 hair. 
DIY Like A Boss
Are you in love with our ready-made products and excited to DIY your own hair goodies? You will learn how to mix fenugreek and amla hair growth herbal powders into two deeply moisturizing hair treatments. You can use all of these yummy deep conditioners weekly to promote moisture and length retention!
Meet A New Cleanser 
While shampoo has a place in every hair regimen, we love clay at Henna Sooq. Janice will show you how to use clay masks to cleanse your hair and transform your wash day moisture routine. 
And that's not even ALL! The Dry Hair Antidote hair regimen guide offers you so much more!
Start Your Hair Regimen Today!
Grab your Maximum Moisture Bundle and be automatically enrolled in this hair regimen guide.